如意斋 Offering to Sangha (Combined Tablet)
Regular price

Sale price

$10.00
供斋缘起于释迦牟尼佛时代,目犍连尊者以供养僧众的功德,救母亲脱离饿鬼道之苦的典故。僧人在世间以弘扬佛法续众生佛慧命、是无上福田,更是三宝代表之一。供僧因此也属于报三宝之恩。《大方广如来不思议境界经》载:供养僧者,增长无量福智资粮,致成佛道。"如意斋"是供斋的一种,主要是以食物僧侣或四众。此供养即可令人如意、吃得欢喜。也能广结法缘,种福田。供斋其余还包括了"罗汉斋","上堂大斋"等,而大众也可能以不同因缘护持。从另个角度,供斋也能鼓励与方便吃素,减少杀生恶业。
The tradition of offering to the Sanghas dates back to the story of Arhat Maudgalyayana, who saves his mother from the realm of hungry ghosts with the merits of offering to the Sanghas. The Sangha community spreads the Dharma and the Buddha's knowledge to all sentient beings. Making offerings to Sanghas is also a method of thanking the Triple Gem for its generosity since they are the Field of Blessings and one of the Triple Gems. "Ruyi" (as requested) offering mostly feeds laypeople or Sanghas. This offering enables the giver to cultivate benefits and make a variety of Dharma connections, in addition to enabling the recipients to eat with joy. There are further offerings of a comparable nature. From a different angle, providing vegetarian food as an offering promotes and enables vegetarianism, which lessens the opportunities for unwholesome deeds like the taking of lives.
The Offering to Sangha is set on the first day of the second Lunar month, 3rd of March 2024.
如意斋定于农历二月初一,2024年3月3日。
This donation cannot be combined with other items in your cart. Please purchase other items separately. Thank you for your understanding.
Share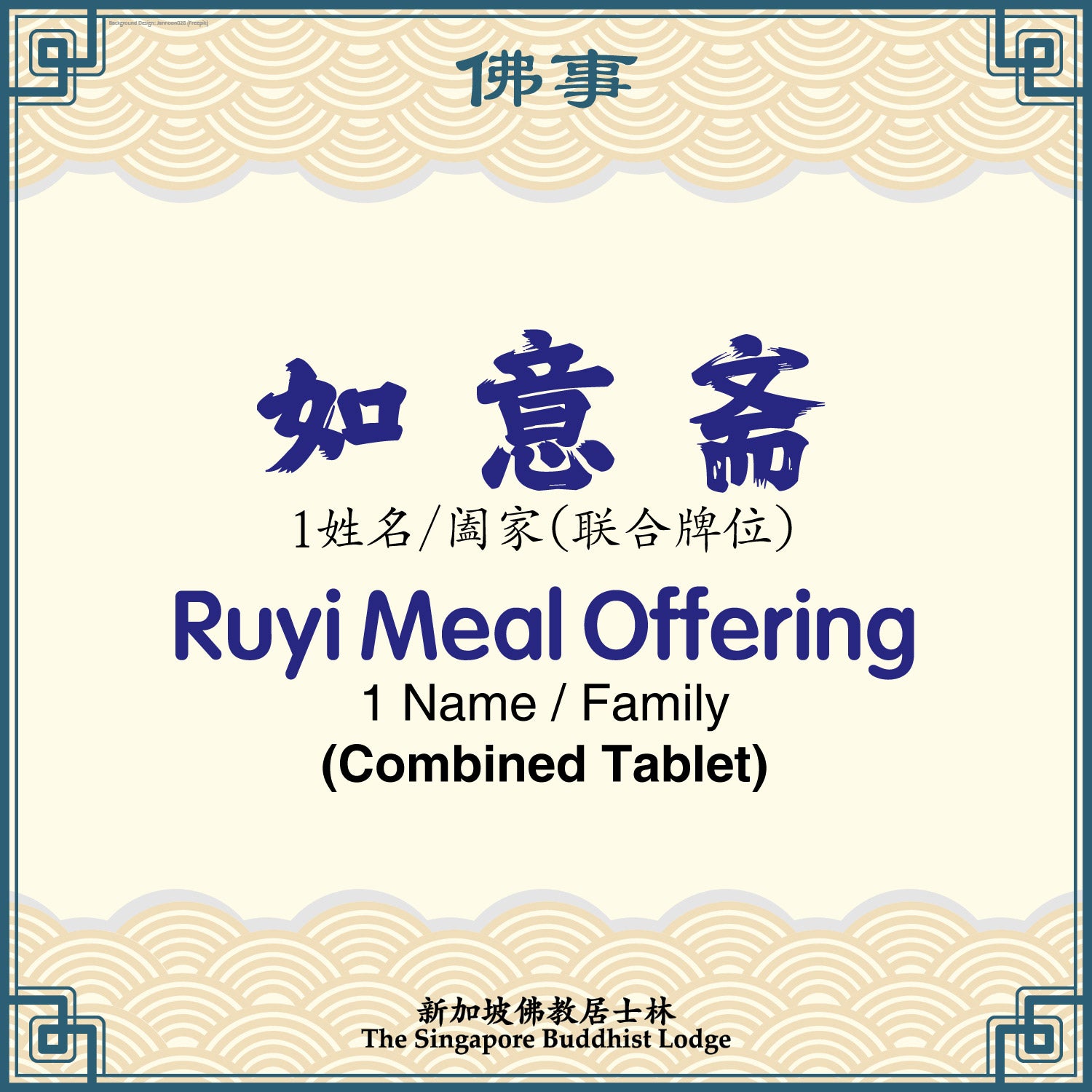 You May Also Consider 您也可以考虑